Self-guided trip to Hoi An:
The face of the Old Town has preserved its incredible legacy of tottering Japanese merchant houses, Chinese temples and ancient tea warehouses – though, of course, residents and rice fields have been gradually replaced by tourist businesses. Lounge bars, boutique hotels, travel agents and a glut of tailor shops are very much part of the scene here. And yet, down by the market and over on Cam Nam Island, you'll find life has changed little. Travel a few kilometres further – you'll find some superb bicycle, motorbike and boat trips – and some of central Vietnam's most enticingly laid-back scenery and beaches are within easy reach.
Around Hoi An:
Tran Family Chapel (Map 21)
Built for worshipping family ancestors, this chapel dates back to 1802. It was commissioned by Tran Tu, one of the clan who ascended to the rank of mandarin and served as an ambassador to China. His picture is to the right of the chapel. The architecture of the building reflects the influence of Chinese (the 'turtle' style roof), Japanese (triple beam) and vernacular (look out for the bow-and-arrow detailing) styles.
The central door is reserved for the dead – it's opened during the Tet festival and on 11 November, the death anniversary of the main ancestor. Traditionally, women entered from the left and men from the right, although these distinctions are no longer observed.
The wooden boxes on the altar contain the Tran ancestors' stone tablets, with chiselled Chinese characters setting out the dates of birth and death, along with some small personal effects. On the anniversary of each family member's death, their box is opened, incense is burned and food is offered.
After a short tour, you'll be shown to the 'antique' room, where there are lots of coins for sale, and a side room full of souvenirs.
Phung Hung Old House (Map 4)
Just a few steps down from the Japanese Covered Bridge, this old house has a wide, welcoming entrance hall decorated with exquisite lanterns, wall hangings and embroidery. You can walk out on to a balcony and there's also an impressive suspended altar.
Japanese Covered Bridge (Map *)
This beautiful little bridge is emblematic of Hoi An. A bridge was first constructed here in the 1590s by the Japanese community to link it with the Chinese quarters. Over the centuries the ornamentation has remained relatively faithful to the original Japanese design. The French flattened out the roadway for cars, but the original arched shape was restored in 1986. The bridge is due for a complete removal for repair, so check it's open before you travel, if making a special trip.The structure is very solidly constructed because of the threat of earthquakes. The entrances to the bridge are guarded by weathered statues: a pair of monkeys on one side, a pair of dogs on the other. According to one story, many of Japan's emperors were born in the years of the dog and monkey. Another tale says that construction of the bridge started in the year of the monkey and was finished in the year of the dog. The stelae, listing all Vietnamese and Chinese contributors to a subsequent restoration of the bridge, are written in chu nho (Chinese characters) – the nom script had not yet become popular.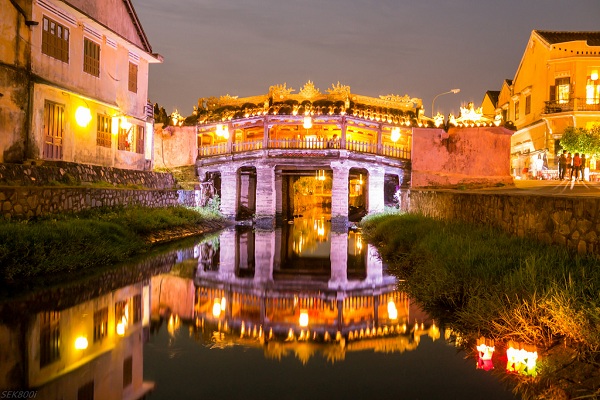 Quan Cong Temple (Map 24)
Founded in 1653, this small temple is dedicated to Quan Cong, an esteemed Chinese general who is worshipped as a symbol of loyalty, sincerity, integrity and justice. His partially gilded statue, made of papier mâché on a wooden frame, is on the central altar at the back of the sanctuary. When someone makes an offering to the portly looking Quan Cong, the caretaker solemnly strikes a bronze bowl that makes a bell-like sound.
On the left of Quan Cong is a statue of General Chau Xuong, one of his guardians, striking a tough-guy pose. On the right is the rather plump administrative mandarin Quan Binh. The life-size white horse recalls a mount ridden by Quan Cong.
Check out the carp-shaped rain spouts on the roof surrounding the courtyard. The carp is a symbol of patience in Chinese mythology and is popular in Hoi An.
Shoes should be removed when mounting the platform in front of the statue of Quan Cong.
Museum of Trading Ceramics (Map 80)
Occupies a restored wooden house and contains a small collection of artefacts from all over Asia, with oddities from as far afield as Egypt. While this reveals that Hoi An had some rather impressive trading links, it takes an expert's eye to appreciate the display. The exhibition on the restoration of Hoi An's old houses provides a useful crash course in Old Town architecture.
Handicraft Workshop (Map 9)
Housed in a 200-year-old Chinese trading house, the Handicraft Workshop has artisans making silk lanterns and practising traditional embroidery in the back. In the front is your typical tourist-oriented cultural show with traditional singers, dancers and musicians. It makes a sufficiently diverting break from sightseeing.
Museum of Folklore in Hoi An (Map 33)
Located in a 150-year-old Chinese trading house. The exhibits give some idea of local customs and culture, though it's awfully dusty and decontextualised for a folk-history museum. The view of the river from upstairs is very picturesque.
Museum of Sa Huynh Culture & Museum of the Revolution (Map 149)
On the lower floor you'll find stone, bronze, gold, glass and agate jewellery, assorted ceramic fragments and burial jars dating from the early Dong Son civilisation of Sa Huynh. The upper floor's revolution museum was closed at the time of research.
Hoi An Museum of History & Culture (Map 7)
Housed in the Quan Am Pagoda, this museum provides a sampling of pre-Cham, Cham and port-era artefacts, with some huge bells, historic photos, old scales and weights alongside plenty of ceramics.
Tan Ky House (Map 101)
Built two centuries ago by an ethnically Vietnamese family, this gem of a house has been lovingly preserved through seven generations. Look out for signs of Japanese and Chinese influences on the architecture. Japanese elements include the ceiling (in the sitting area), which is supported by three progressively shorter beams, one on top of the other. Under the crab-shell ceiling are carvings of crossed sabres wrapped in silk ribbon. The sabres symbolise force; the silk represents flexibility.
The interior is brightened by a beautiful detail: Chinese poems written in inlaid mother-of-pearl hang from some of the columns that hold up the roof. The Chinese characters on these 150-year-old panels are formed entirely of birds gracefully portrayed in various positions of flight.

Special Food @ Hội An
The streets of Hoi An Ancient Town are filled with an array of dining choices, ranging from glitzy Vietnamese restaurants to riverside food stalls. Noodles and rice dishes are typically priced between VND 20,000 and VND 50,000 ( about 0.7$ to 2$) while appetisers such as banh xeo and banh mi should cost no more than VND 25,000. Read on for our list of must-try dishes in Hoi An.
Cao Lau (Rice Noodles With Barbecued Pork, Greens And Croutons)
Cao lau is Hoi An's definitive dish, comprising chewy udon-like rice noodles, Chinese barbecued pork slices, beansprouts, croutons, and fresh herbs in a pork-based gravy. This local delicacy is only available in Hoi An because the noodles can only be cooked using water from well-hidden ancient Cham wells while fresh greens are sourced from Tra Que Vegetable Village. You can find cao lau at any Vietnamese restaurant in Hoi An, with prices ranging between VND 50,000 and VND 100,000 (2 – 5$). Certain eateries serve their own variation of cau lao by adding peanuts, rice crackers, scallions, lime, and chilli jam.
Adress: Trung Bắc Res- 87 Trần Phú.
Banh Bao Vac (White Rose Dumplings)
Banh bao vac is a local appetiser that resembles delicate white roses displayed on a platter. Each dumpling is made by wrapping shrimp or pork filling in flattened rice dough before cooking it in a steamer. Once soft and translucent, banh bao vac is carefully arranged on a flat plate, topped with shallots, and served with a dipping sauce made from shrimp broth, chillies, lemon and sugar. Available at most local restaurants in Hoi An, the banh bao vac are supplied by a local family residing at 533 Hai Ba Trung Street at price from VND50,000 to VND 70,000 per dish (2-3$), where you can witness how this trademark dish is made.
Address: 533 Hai Ba Trung Street
Com Ga (Chicken Rice)
Com ga is a hearty ensemble of fragrant rice, shredded village chicken, fresh herbs, black pepper, and chilli jam. Originating from China, it's a very common dish in Southeast Asia, but Hoi An is said to utilise only top quality rice and farm-raised chickens. The rice is also cooked in a mixture of pandan leaves, chicken stock and turmeric in wood-fired clay ovens, resulting in its distinctive pale yellow exterior. A standard plate of com ga is priced at VND40,000 to VND100,000 (2-5$) which comes with a small bowl of clear soup, dipping sauces, and pickled green chillies.
Address: Bà Buội – 22 Phan Chu Trinh or Bà Nga – 8 Phan Chu Trinh
Mi Quang (Vietnamese Turmeric Noodles)
Mi quang consists of yellow rice noodles, bone broth seasoned with fish sauce, black pepper, shallot, and garlic, topped with a variety of meat, herbs, and local greens. A bowl costs between VND 25,000 and VND 50,000 (1-2$)though prices can go much higher at established restaurants in Hoi An. Traditionally, meat toppings are either chicken, pork, or beef slices, but many restaurants now include squid, boiled quail eggs, snails, and frogs. As with most noodle and rice dishes in Vietnam, mi quang also features lots of fresh herbs and other additions such as basil, peanuts, coriander, sliced banana flowers, and sesame rice crackers.
Address: Mì Quảng Ông Hai – 6A Trương Minh Lượng
Banh Mi (Vietnamese Baguette)
Quick and tasty, banh mi is one of Vietnam's quintessential dish that you should never miss out on. This hearty baguette sandwich is priced between VND25,000 and VND40,000 (1-1.5$)and consists of pickled vegetables, pâté, butter, soy sauce, cilantro, chillies, and hot peppers. Depending on the restaurant or food stall, you can also choose from a variety of meat fillings for your banh mi, including heo quay (roasted pork belly), cha ca (fried fish with turmeric and dill), cha lua (boiled sausages), xiu mai (meatballs), thit ga (boiled chicken), trung op la (fried egg), thit nuong (grilled pork loin), and xa xiu (Chinese barbecued pork).
Address: Bánh mì Phượng – 2B Phan Châu Trinh